Regular price
Sale price
₹420.00INR
Unit price
per
Sale
Sold out
Shipping Details

🎁 Order today, sweets and snacks will be ♨️freshly procurred at the time of dispactch, and you will recieve your order as per the below timeline:-

Order will be dispached within 2 hrs. - 48 Hrs. after receiving the same. Excluding Sunday and Public Holidays;
For West Bengal and Orissa - delivery will be within 24-72 Hrs. from dispatch;
For Rest of country 2-7 Days from dispatch, depending on distance from West Bengal.

Generally, delivery takes place from West Bengal to Mumbai, Delhi, Bangalore, Hyderabad, Chennai, Pune, NCR, Gurgaon and few major cities within 4 days.

🗈Note:-

✈️ Sweets with less shelf life will be dispatched through air;

🚚 Rest of products will be dispatched through Surface Mode;

✈️🚚 If any order has both sweets with less shelf life and long shelf life products, there will be two shipments send for the same, i.e. Sweets will be sent through air and rest of products will be sent through Surface;

✈️ If customer wants all products through Air mode, Express delivery available on extra cost.

📦We are delivering to across India even the most core area.
Share
Mukharochak is a well-known name in Bengal and heading a crown of premium quality Bengali snacks. At India Cuisine find the widest range of Mukhorochak snacks. In this hamper, we have selected the most loved products from Mukharochak to provide you an unforgettable finger-licking experience:-
Mukharochak Tok Jhaal Mishti:- 200 Gms.
Mukharochak Special Papri Chanachur:- 200 Gms.
Mukharochak 7 PM Premium Chanachur:- 200 Gms.
Mukharochak Salty Chanachur:- 200 Gms.
Mukharochak Basmati Chaal Bhaja:- 200 Gms.
Mukhorochak Mirchi Jhaal Chanachur:- 200 Gms.
Net Weight:- 1200 Gms.
View full details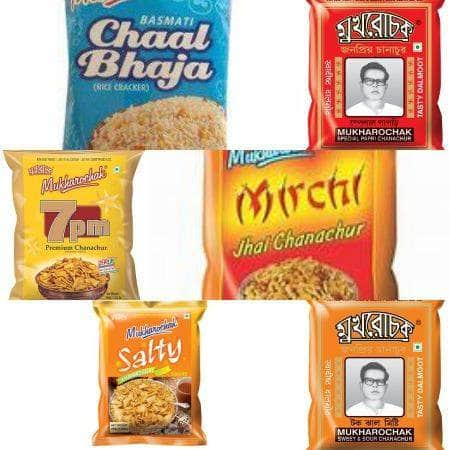 Saves time and provide every of Bengali snack
Great choice for trying typical Bengali snack.