Regular price
₹1,100.00INR
Regular price
₹1,350.00INR
Sale price
₹1,100.00INR
Unit price
per
Sale
Sold out
Shipping Details

🎁 Order today, sweets and snacks will be ♨️freshly procurred at the time of dispactch, and you will recieve your order as per the below timeline:-

Order will be dispached within 2 hrs. - 48 Hrs. after receiving the same. Excluding Sunday and Public Holidays;
For West Bengal and Orissa - delivery will be within 24-72 Hrs. from dispatch;
For Rest of country 2-7 Days from dispatch, depending on distance from West Bengal.

Generally, delivery takes place from West Bengal to Mumbai, Delhi, Bangalore, Hyderabad, Chennai, Pune, NCR, Gurgaon and few major cities within 4 days.

🗈Note:-

✈️ Sweets with less shelf life will be dispatched through air;

🚚 Rest of products will be dispatched through Surface Mode;

✈️🚚 If any order has both sweets with less shelf life and long shelf life products, there will be two shipments send for the same, i.e. Sweets will be sent through air and rest of products will be sent through Surface;

✈️ If customer wants all products through Air mode, Express delivery available on extra cost.

📦We are delivering to across India even the most core area.
Share
As the name suggests the mango is reddish in appearance and is known for its rosy flavor and aroma. It is a mid-season mango having nonfibrous pulp and is very popular for making mango based desserts and aamras (mango shakes) too. Mango season is back! Find this special variety of mango from India Cuisine.
If you're a tango mango lover, you'll love these Gulabkhas Mangoes from India. These mangoes are sweet and taste amazing. They're also soft, making them easy to eat. You'll love them! Your mango men a.k.a the delivery partner would be delivering the mango mangoes within 24-96 HRS.. Buy them now! 
Note:
When I buy mangoes, until the time they arrive, won't they be stale?

We understand your issue with buying mangoes from us, and hence to keep them fresh, we send unripe mangoes, which are green. So by the time, it reaches your home, you have the freshly ripened mangoes.

Do you ensure the quality?

Yes, we ensure that only the best quality mangoes are hand-picked to go in your crate and leave for delivery. 
 Pcs.:- 9-20 Pcs. (Net Weight:- 2800-3300 Gms.) - Rs. 1100/-
Pcs.:- 4-10 Pcs. (Net Weight:- 1800-2300 gms.) - Rs.800/- 
View full details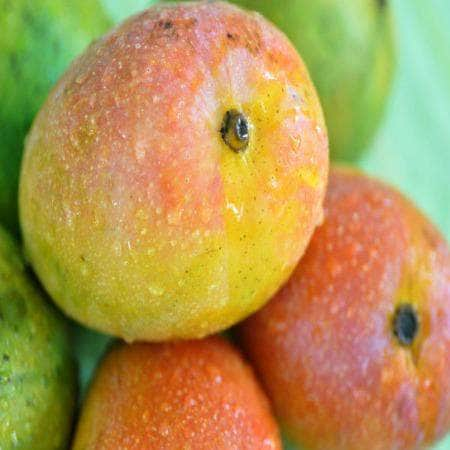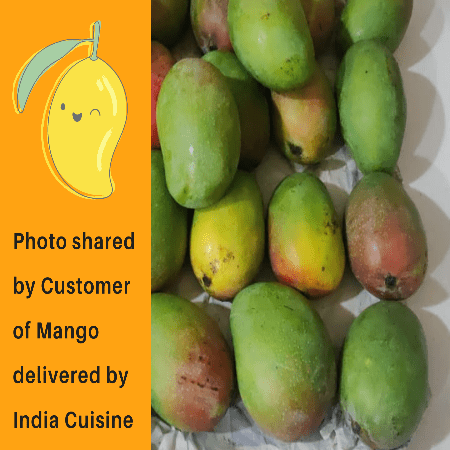 Gulab Khaas Mango | India Cuisine
Mango orgder review....
All gulagb khas mango destroyed due to bad packaging...should have good packaging system
Himsagar was good condition and tasty
My favourite aamras
I love to have a aamras and f gulab khaas mango. Thank you Indian cuisine for safely delivered
Best for aamras
Best quality mango. Received in very good condition and fresh too. My family loves to drink aamras of gulab khaas.
Great taste of Bengal' Mango
Tasted again after a long time, this is best for Mango shake for having that sweet and sour taste.