Regular price
Sale price
₹138.00INR
Unit price
per
Sale
Sold out
Shipping Details

🎁 Order today, sweets and snacks will be ♨️freshly procurred at the time of dispactch, and you will recieve your order as per the below timeline:-

Order will be dispached within 2 hrs. - 48 Hrs. after receiving the same. Excluding Sunday and Public Holidays;
For West Bengal and Orissa - delivery will be within 24-72 Hrs. from dispatch;
For Rest of country 2-7 Days from dispatch, depending on distance from West Bengal.

Generally, delivery takes place from West Bengal to Mumbai, Delhi, Bangalore, Hyderabad, Chennai, Pune, NCR, Gurgaon and few major cities within 4 days.

🗈Note:-

✈️ Sweets with less shelf life will be dispatched through air;

🚚 Rest of products will be dispatched through Surface Mode;

✈️🚚 If any order has both sweets with less shelf life and long shelf life products, there will be two shipments send for the same, i.e. Sweets will be sent through air and rest of products will be sent through Surface;

✈️ If customer wants all products through Air mode, Express delivery available on extra cost.

📦We are delivering to across India even the most core area.
Share
The flagship product with which the journey began over sixty-five years ago. This is very unique & special kind of Chanachur made out of fine quality chana besan, fried in fresh and double refined vegetable oil, tossed with peanuts & moong. Finally it is blended with selective spices (garam masala) - to give it a Royal Taste. A veg product with non-veg flavour and taste. And this extraordinary feature makes Special Papdi a talk among all the chanachur makers and lovers as well. It is a healthy snack - no artificial colour, flavour, preservatives or chemical & 0% cholesterol and TransFat. Try this authentic and regional snack at India Cuisine.
One of the most popular, respected and time-tested brand of India, hails from Kolkata. All its products are all about an affair. An affair which has been long, royal and very tasty. This amazing affair between Mukharochak and millions of Bengali household began over sixty-five years ago and continuing, since. All it took was an honest and humble approach of a family and their passionate desire to offer some satisfying, yet very exciting snacks to all. The Chandra family almost single-handedly scripted the story of this everlasting affair between Bengalis and that time-tested ethnic snack – Chanachur. Family of the Chandras, like a true pioneer gave birth to Mukharochak – the brand which would rule snacks loving consumer's tongue for decades to come.
Net Weight:- 400 Gms.
View full details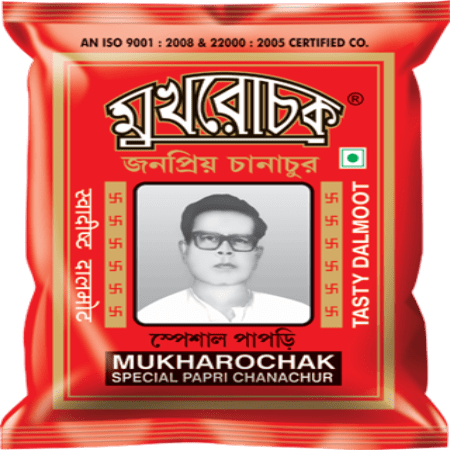 Mukharochak Special Papri Chanachur | India Cuisine
Very much fresh and healthy too.
Authentic Mukharochak
It reminds me my favorte chanavhur directly from Bengal, fresh and royal taste of Bengal.